HB Steel Buildings Inc. – Northern Idaho Steel Garages
Garages
Every job that we construct is designed to meet the needs of our customers. We do not use a middle man. We are the supplier and the installer, which means that we maintain a hassle-free relationship with our clients. We can build for you a complete multi-car garage, or something as simple as a carport or RV cover.
Our buildings are designed and constructed to ensure that you are investing in a sound structure that will last for many years to come. We don't take any shortcuts, and our buildings are built the way they are meant to be built: using high-quality lumber to produce a sturdy, solid, wood-frame structure which we cover with stout 29 Gauge metal. Any of our custom-built structures should add value to your property.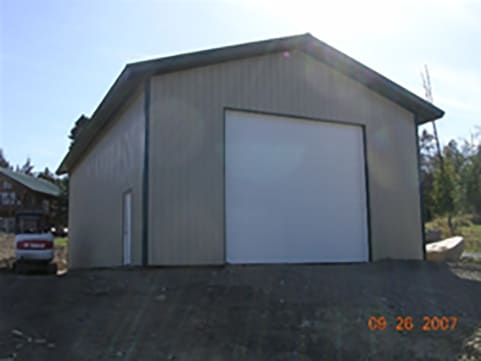 We customize to your needs
29 Gauge Corrugated Sheeting | Your choice of color with matching trim | Concrete slab floors available | Up to 65′ clear span are possible | Up to 18′ wall | Pressure treated solid wood posts
We offer pole building garages/shops/barns to Residential, Commercial, and Agricultural communities throughout Northern Idaho.